About Us
Salt N Spice is a Indian takeaway in St. Ives. Why don't you try our Biryani or Vegetable Curry?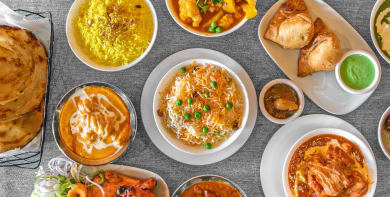 Reviews
275 reviews
Lucie
"Tasted delicious! was all very happy with our meals. portion sizes of the curry dishes were perfect! would definitely recommend and will be ordering from here again soon!"
30/05/2020
julie
"Excellent as always"
30/05/2020
craig
"Lovely tasty food. Piping hot on arrival. I highly recommend this curry takeaway. 5 stars*****"
30/05/2020
Michael
"Really great food, turned up early and piping hot. Really recommend!"
30/05/2020
Menu
Chicken Pakora
Cooked in batter & deep fried
£3.90
King Prawn Butterfly
Dedicated spiced & cooked in breadcrumbs, deep fried butter
£4.90
King Prawn Puri
Well spiced cooked with thick gravy & served on a deep fried bread
£4.90
Mixed Kebab
Combination of chicken tikka, lamb tikka & seekh kebab
£4.00
Onion Bhaji
Finely chopped onions, slightly spiced & deep fried
£2.50
Prawn Puri
Succulent prawns spiced and fried, served with puri
£3.90
Reshmi Kebab
Mince meat burger shape spice & herb, served with an omelette
£3.20
Samosa Meat
Mixed vegetable or meat in a crispy pastry roll
£2.50
Samosa Vegetable
Mixed vegetable or meat in a crispy pastry roll
£2.50
Seekh Kebab
Spiced minced meat grilled in clay oven
£3.20
Tandoori Chicken (Quarter)
Spring chicken marinated & grilled on charcoal
£3.50
Tikka Starter Chicken
Marinated with mild spice & barbecued
Mild
£3.50
Tikka Starter Lamb
Marinated with mild spice & barbecued
Mild
£3.50
Shami Kebab
Mince meat burger shape, shallow fried with spice & green herbs
£3.20
Mushroom Khumbi
Mince meat & mushroom cooked with flour coating
£3.90
Aloo Chaat
Pieces of potatoes cooked with chaat, spice, cucumber & tomatoes
£3.20
Fish Pakora
Cooked in batter & deep fried
£3.90
Quarter Pounder Cheeseburger
£2.70
Half Pounder Cheeseburger
£3.50
Pasanda Chicken
Pieces of boneless chicken or tender pieces of lamb cooked in a creamy sauce, garnished with almond & coconut
£7.90
Pasanda Lamb
Pieces of boneless chicken or tender pieces of lamb cooked in a creamy sauce, garnished with almond & coconut
£7.90
Palok Chicken Tikka Masala
Fresh spinach cooked with our special masala sauce & cream
£8.90
Garlic Chilli Tikka Chicken
Spicy
£7.50
Garlic Chilli Tikka Lamb
Spicy
£7.50
Murgh Bhuna
Off the bone tandoori chicken with meat mince & egg cooked with our special masala sauce, medium & creamy
Medium
£8.90
Murgh Masala
Off the bone tandoori chicken with meat mince & egg cooked with our special masala sauce, mild & creamy
Mild
£8.90
Achar Tikka Chicken
A traditional dish South Indian dish cooked with tamarind sauce & slices of garlic, sweet & sour, medium strength
Medium
£7.50
Achar Tikka Lamb
A traditional dish South Indian dish cooked with tamarind sauce & slices of garlic, sweet & sour, medium strength
Medium
£7.50
Nagaria Tikka Chicken
Medium spice with hot chilli sauce, aromatic sauce
Medium
£7.90
Nagaria Tikka Lamb
Medium spice with hot chilli sauce, aromatic sauce
Medium
£7.90
Butter Tikka Chicken
Almond cream with butter flavoured
Mild
£7.90
Butter Tikka Lamb
Almond cream with butter flavoured
Mild
£7.90
Tikka Chilli Masala Chicken
£7.50
Rezala Chicken
Hot green chilli, ginger & sliced onion sauce
£8.90
Rezala Lamb
Hot green chilli, ginger & sliced onion sauce
£8.90
Honey Chicken Tikka
Honey flavoured, creamy
£7.90
Honey Lamb Tikka
Honey flavoured, creamy
£7.90
Tikka Shashlik Bhuna Chicken
Diced chicken OR lamb tikka, onion, green pepper, red pepper, tomato first cooked with clay oven after that put in medium spice with thick gravy
Medium
£7.90
Tikka Shashlik Bhuna Lamb
Diced chicken OR lamb tikka, onion, green pepper, red pepper, tomato first cooked with clay oven after that put in medium spice with thick gravy
Medium
£7.90
Tikka Mango Delight Chicken
Medium spice with mango flavoured
Medium
£7.90
Tikka Mango Delight Lamb
Medium spice with mango flavoured
Medium
£7.90
Shatkora Chicken Jalfrezi
Chicken cooked with onions, green peppers, fresh green chillies & special lime in fairly hot thick sauce
£7.90
Tandoori King Prawn Biryani
£10.90
Nawabi Chicken
Chicken tikka, minced meat with green peas chefs own style recipe fairly hot, onion sauce
£7.90
Tandoori Mixed Grilled
With naan bread
£9.90
Set Meal Meal - For 4
Starter: 4 poppadoms, chicken tikka, onion bhaji, meat samosa
Main: chicken tikka masala, lamb saag, chicken bhuna, chicken rogan josh
Side: bombay potato, tarka daal, saag aloo, pilau rice, special rice, naan & peshwari naan
£42.90
Set Meal - For 2
Starter: 2 poppadoms, onion bhaji, meat samosa
Main: chicken korma, lamb bhuna
Side: sag aloo, 2 pilau rice & naan
£21.90
House Special Biryani Chicken
£8.90
House Special Biryani Lamb
£8.90
Tandoori King Prawn Masala
£10.50
Chutney (Per Cup) Lime Pickle
£0.60
Chutney (Per Cup) Mixed Pickle
£0.60
Balti Tikka Madras Chicken
£7.90
Balti Tikka Dansak Chicken
£7.90
Vegetable Curry
Seasonal mixed vegetables, curry & spices
£3.20
Vegetable Masala
Mixed vegetables, cooked in masala sauce
£3.50
Bombay Potato
Fresh potato cooked in medium hot thick sauce
Medium
£3.20
Mushroom Bhaji
Cooked in butter with onions, green pepper & spices
£3.20
Cauliflower Bhaji
Fresh cauliflower cooked in medium spices
Medium
£3.20
Bhindi Bhaji
Fresh okra cooked with onions & spices, served dry
£3.20
Brinjal Bhaji
Fresh aubergines cooked with spices
£3.20
Aloo Gobi
Potato & cauliflower cooked in medium spices
Medium
£3.20
Saag Aloo
Spinach & potatoes cooked in mild spices
Mild
£3.20
Saag Chana
Spinach with chickpeas
£3.20
Saag Bhaji
Spinach & green chilli
£3.20
Tarka Daal
Lentil curry fried in herbs, onions & garlic
£3.20
Mattar Panir
Cottage cheese, peas & spices
£3.20
Sag Panir
Cottage cheese & spinach
£3.20
Aloo Chana
Potato & chickpeas, cooked in medium spices
Medium
£3.20
Contact Us
Find Us
32 Broadway, St. Ives, PE275BN
We deliver to
CB23, CB24, PE27, PE28, PE29